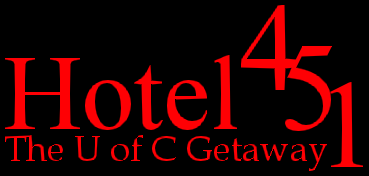 Meet the founding Members of Hotel 451
See the Supplier page for Hotel 451

Software Engineers Needed
Since its conception in 1997, Hotel 451 has flourished into what has become probably the largest chain of fine hotels at the University of Calgary. For this reason, the management here at Hotel 451 is seeking to hire a team of software engineers to design an all-new Hotel Booking System. Information about the system is described below.
i. Informal Specification of Requirements
ii. Assessment of Functional Specification and Management Plan
iii. Assessment of Overall Design Document
iv. Assessment of User Manual
v. Project Critique

This page maintained by Keith Uyeno for Hotel 451