The actual constraint graph sublanguage follows.
Examples
A Simple CMap Example
The following is a simple example of a multipart MIME stream that contains only one instance of a concept map using the concept map sublanguage.
---

MIME-Version: 1.0
Content-Type: multipart/mixed; boundary=****KSIDeLiMiTER****

This file is written by the KSIMapper application, from the Knowledge Science
Institute at the University of Calgary, Canada.
--****KSIDeLiMiTER****
Content-Type: application/x-CMap; version=0.1

8
;
1,"Node",5,"default",265 41 295 61,"C",ff80,0,,,0,0
2,"SMaplet",2,"BiDirect",110 75 110 75,2,(1,0),(4,0),,,,,3
1,"Node",7,"default",265 110 295 130,"D",ff0080,0,,,0,0
5,"ContextBox",4,"frame",144 8 304 142,"Context",ff8080,0,,,0,0
1,"Node",1,"default",10 44 76 107,"A",80ff,0,,,0,0
2,"SMaplet",6,"BTWN",234 85 234 85,3,(3,0),(5,0),(7,0),"BTWN",ffffff,0,0,1
1,"Node",3,"default",156 72 174 98,"B",8000ff,0,,,0,0
;

--****KSIDeLiMiTER****--


---
The above file should produce the following graph, assuming the application has the appropriate visual types "default", "BiDirect", "frame", and "BTWN":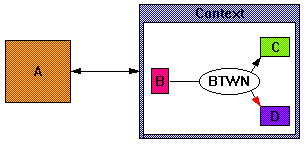 A Simple Constraint Graph Example
The following is a sample of Constraint Graph (the second sublanguage above) concept map. A Constraint Graph file consists of a multi-part MIME structure containing at least an application/x-ConstraintGraph part followed by an application/x-CMap part. Note that because these grammars allow other MIME parts, a CMap program should also be able to read this file (by just ignoring the application/x-ConstraintGraph part before the application/x-CMap part).
---

MIME-Version: 1.0
Content-Type: multipart/mixed; boundary=****KSI_CoNsTrAintGrAph****

This file is written by the ConstraintGraphs application, from the Knowledge Science
Institute at the University of Calgary, Canada.
Time: Wed Dec 11 14:52:50 1996

--****KSI_CoNsTrAintGrAph****
Content-Type: application/x-ConstraintGraph; version=0.1

1c,(),
("NodeComponent",a,"TOP",5,(("AttributeValuePair<unsigned long>","borderColor",65,0,0)("AttributeValuePair<unsigned long>","fillColor",65,0,80ffff)("AttributeValuePair<unsigned long>","textColor",65,0,0)))
("IsaComponent",b,"isa-11",5,(),((a,2)(2,1)),ffffffff)
("NodeComponent",c,"NODE",5,())
("IsaComponent",d,"isa-13",5,(),((c,2)(2,1)),ffffffff)
("NodeComponent",e,"ARC",5,())
("IsaComponent",f,"isa-15",5,(),((e,2)(2,1)),ffffffff)
("NodeComponent",10,"CONTEXT",5,())
("IsaComponent",11,"isa-17",5,(),((10,2)(2,1)),ffffffff)
("NodeComponent",12,"ISA",5,())
("IsaComponent",13,"isa-19",5,(),((12,2)(2,1)),ffffffff)
("NodeComponent",14,"BOTTOM",5,())
("IsaComponent",15,"isa-21",5,(),((14,2)(2,1)),ffffffff)
("IsaComponent",16,"?",5,(),((c,2)(a,1)),ffffffff)
("IsaComponent",17,"?",5,(),((e,2)(a,1)),ffffffff)
("IsaComponent",18,"?",5,(),((12,2)(e,1)),ffffffff)
("IsaComponent",19,"isa-25",5,(),((10,2)(c,1)),ffffffff)
("IsaComponent",1a,"?",5,(),((14,2)(e,1)),ffffffff)
("IsaComponent",1b,"?",5,(),((14,2)(c,1)),ffffffff)

--****KSI_CoNsTrAintGrAph****
Content-Type: application/x-CMap; version=0.1
Extension: application/x-ConstraintGraph; version=0.1

19,1,2,5,1,ffffffff,ffffffff
;
1,"ConsGraphNode",3,"ellipse",276 154 312 181,"ARC",80ffff,0,,,0,1,0,e
1,"ConsGraphNode",2,"ellipse",127 152 180 179,"NODE",80ffff,0,,,0,1,0,c
1,"ConsGraphNode",6,"ellipse",192 276 269 303,"BOTTOM",80ffff,0,,,0,1,0,14
1,"ConsGraphNode",1,"ellipse",209 76 246 103,"TOP",80ffff,0,,,0,1,0,a
1,"ConsGraphNode",5,"ellipse",332 220 362 247,"ISA",80ffff,0,,,0,1,0,12
1,"ConsGraphNode",4,"ellipse",61 217 150 244,"CONTEXT",80ffff,0,,,0,1,0,10
2,"ConsMaplet",7,"isa",193 127 193 127,2,(2,ff),(1,ff),,,,,3,0,16
2,"ConsMaplet",8,"isa",260 128 260 128,2,(3,ff),(1,ff),,,,,3,0,17
2,"ConsMaplet",9,"isa",321 200 321 200,2,(5,ff),(3,ff),,,,,3,0,18
2,"ConsMaplet",a,"isa",119 196 119 196,2,(4,ff),(2,ff),,,,,3,0,19
2,"ConsMaplet",b,"isa",255 226 255 226,2,(6,ff),(3,ff),,,,,3,0,1a
2,"ConsMaplet",c,"isa",201 225 201 225,2,(6,ff),(2,ff),,,,,3,0,1b
;

--****KSI_CoNsTrAintGrAph****--


---
The above file should yeild a graph that looks like this: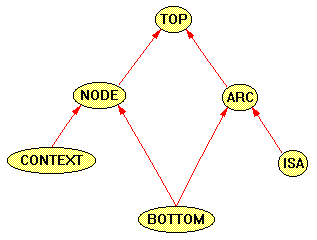 ---