About Michele Jacobsen, MSc.
Doctoral Student
Educational Psychology, Faculty of Education
---
Meet my best buddy, Michael, who is seven and in grade 2. My nephew was four years old in this picture.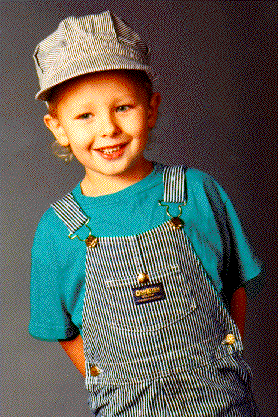 ---
My CourseWork 1995/1996
Fall 1995

EDPS 635: Cognitive Processes I
MGIS 631: Management of Information Systems
PSYC 637: Advanced I/O & Ergonomics I

Winter 1996

EDPS 683: Psychometric Theory and Practice in Education
EDPS Independent Study: Dr. Anne McKeough
---
Graduate Teaching Assistantships
EDTS 325: Introduction to Computers in Education
EDPS 481: Computers in Education I
---
Scholarships
President's Building on the Vision Doctoral Scholarship
Educational Psychology Admissions Scholarship
---
Research Interests
Expert versus Novice Skill Performance
Expertise in Technology Teaching
The Development of Expertise within an Organizational Structure
Human Computer Interaction
CAI & CBT Development using various Authoring Tools
Integrated Learning Systems: K-12, Canadian Schools
Educational Applications of Information Technology
---
Sports & Leisure
Golf: All disposable income this summer was sunk into this sport, although I am still what you would call a "High Score" golfer.
Motorcycling: Got my licence in June, now all I need is a Harley and a Helmet.
Running: Last Race, Melissa's 10 KM in Banff, Sept 23, 1995. My 22 year old sister, Karen, beat me by 10 seconds. Wait until next year!
Baseball: Our team was undefeated this season, and went to the Finals. Go figure, the only game we lost this year was the last one.
RollerBlading: Did not fall once this summer! However, I still wear a helmet, just in case.
Sleep: A scarce commodity for graduate students!
---
Computer Operating System of Choice:
Macintosh, of course!
I have reconciled myself to being typecast as a Mac-only user. My students think that I should negotiate a contract with Apple Canada, to get a kickback for every machine that I convince them to buy. However, for the record, I also own a 386 Windows machine, which I use periodically to translate files from other people, so I can get my work done faster on my Mac!!! No, really, my 386 is good for games, but not much else. Wait a minute, I could use it as a stand for my Mac monitor! Or, it would make a good, heavy doorstop! What I really need is Windows 95, and 18 hours for installation and set-up, so my 386 would be more Mac-Like!!
---