About Vlad Vila, BEng.
Applications Engineer
Calgary, Alberta, Canada
CPSC 679 -- Cognitive Processes in Artificial Intelligence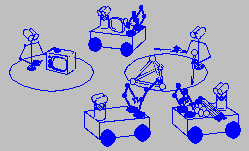 Course Work

For CPSC 679: Cognitive Processes in Artificial Intelligence




Course Project: Development of an Expert Knowledge Base for Use in a Robotic Sumo Wrestler -- This is a marriage of my interests in ROBOTICS and the MARTIAL ARTS.

Course Reading Summaries: These are links to summaries of course readings. The summaries are in a combination of textual and graphical knowledge map formats.

Course Speaker Summaries: This section contains summaries of how speakers' viewpoints relate to Norman's 12 issues in Cognitive Science.

Birds of a Feather

Some other members of CPSC 679

Things That Excite My Neuronal Synapses




Machine Intelligence
Mobile Robotics Control
Advanced Control Systems
Fuzzy Logic Controllers
Neural Networks




... what do you do when you meet this in a dark alley?
Here are some related links

Things That Make Me Sweat
Volleyball
Skiing
Tennis
Wing Chuin
Mountain Biking
Hiking
Kayaking
Spicy Foods
Bedroom Eyes

Things I Do for Fun
Star Trek

Lt. Cmd. Data

Listen to Jazz, Blues, Reggae Music
Chess
Cook
EAT

Let me know what you think: email vlad@combdyn.com