---
University of Calgary
CPSC 451 Project
NOTE: Recommend using Netscape
---
The Project:
Write a specification for a hotel booking system which keeps track of current guests,
available rooms, future bookings and payment of accounts. Include a part for room service
orders which keeps track of the orders, bills them to the appropriate room, and will show the
total sales for a given period.

CPSC 451 Practical Software Engineering

---
Hotel Computer Science
Booking System Proposal:
Customer - Hotel Computer Science
Final Project Evaluation (April 2, 1996)
Supplier - ACME Design Solutions
User Manual (Mar. 14, 1996)
---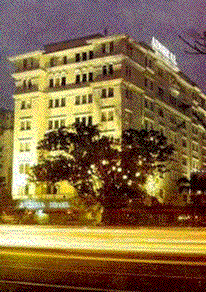 Hotel Computer Science
Management Team:
Dave Chan
Jeremy Coolidge
Michael Downey
Daniel Hay
Hal Henningsmoen
Raymond Hermano
Scott Jensen
Patrick O
Andy Teoh
Janice Webster
Grace Yau
Description:
Located in scenic Calgary, Alberta, the eighty-room Hotel Computer Science offers luxury accomodation at economical rates.
---
---
Updated April 2, 1996